Wife: I lost my keys again!
Husband: It's in your jeans.
Wife: Don't drag my family into this.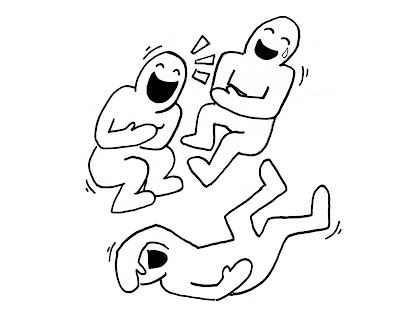 After a meeting several days ago, I couldn't find my keys. I quickly gave myself a personal "TSA Pat Down."
They weren't in my pockets. Suddenly I realized I must have left them in the car. Frantically, I headed for the parking lot. My husband has scolded me many times for leaving my keys in the car's ignition. He's afraid that the car could be stolen. As I looked around the parking lot, I realized he was right. The parking lot was empty. I immediately called the police. I gave them my location, confessed that I had left my keys in the car, and that it had been stolen.
Then I made the most difficult call of all to my husband: "I left my keys in the car and it's been stolen."
There was a moment of silence. I thought the call had been disconnected, but then I heard his voice. "Are you kidding me?" he barked, "I dropped you off!"
Now it was my turn to be silent. Embarrassed, I said, "Well, can you come and get me?"
He retorted, "I will, as soon as I convince this cop that I didn't steal your car!"
Welcome to the golden years…
A husband went to the sheriff's department to report that his wife was missing.
Husband: My wife is missing. She went shopping yesterday and has not come home.
Sergeant: What is her height?
Husband: Gee, I'm not sure. A little over five-feet tall.
Sergeant: Weight?
Husband: Don't know. Not slim, not really fat.
Sergeant: Color of eyes?
Husband: Never noticed.
Sergeant: Color of hair?
Husband: Changes a couple times a year. Maybe dark brown.
Sergeant: What was she wearing?
Husband: Could have been a skirt or shorts. I don't remember exactly.
Sergeant: What kind of car did she go in?
Husband: She went in my truck.
Sergeant: What kind of truck was it?
Husband: Brand new 2015 Ford F150 King Ranch 4X4 with eco-boost 5.0L 1/6 engine special ordered with manual transmission. It has a custom matching white cover for the bed. Custom leather seats and "Bubba" floor mats. Trailering package with gold hitch. DVD with navigation, 21-channel CB radio, six cup holders, and four power outlets. Added special alloy wheels and off-road Michelins. Wife put a small scratch on the drivers door. At this point the husband started choking up.
Sergeant: Don't worry buddy. We'll find your truck.
Comment your answer below 👇