Here is the Mathematical puzzle to test your Arithmetic skills. Can you answer this Mathematical question as quickly as possible and come up with the correct solution in your first attempt?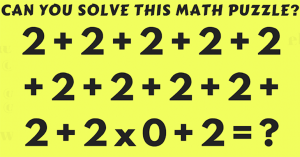 Wow, It's not easy!
2+2+2+2+2+2+2+2+2+2+2×0+2=???????
Let's apply applying BODMAS
Trye your best!
Scroll down to see the answer. dont cheat!
A
N
S
W
E
R
The Answer is 22
Comment your answer below 👇