Can you select any 3 watermelons to get a sum of 30 ?
This is a bit tricky puzzle. Comment if you get the answer!!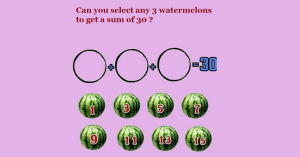 Try your best to find the answer? Remember that this is an tricky riddle, so you can not find the answer right away.
How long it take to find the answer, don't give up, answer will be shown bellow, but don't cheat.
A
N
S
W
E
R
13, 11 & 6 is the answer (Put the watermelon with '9' upside down to get '6')