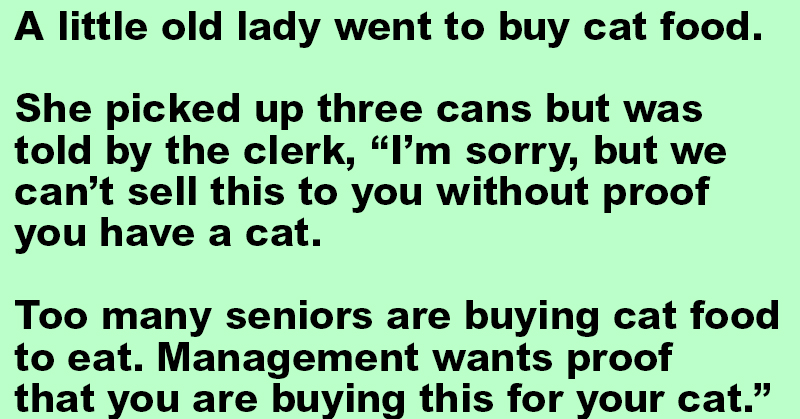 A little old lady went to buy some cat food.
She picked up three cans, but the clerk said, "I'm sorry, we can't sell this to you without proof you have a cat. Too many seniors are buying cat food to eat. Management wants proof that you are buying this for your cat."
So the lady went home, brought in her cat and was sold the cat food. . . .
The next day, she tried to buy two cans of dog food and was again told she couldn't buy them without proof.
So the old lady went home, brought her dog, and was sold the dog food. . . .
One day later, she brought in a box with a hole in the lid and asked the cashier to stick her finger in the hole.
The cashier said, "No, you might have a snake in there."
The lady assured her that there was nothing in the box that would harm her.
So the cashier put her finger into the box, quickly pulled it out, and exclaimed, "That smells like crap." . . .
The lady replied, "It is. I want to buy eight rolls of toilet paper."
LOL!!! 
Hope this joke will make you smile! Have a nice day!!
An Old Woman Is Riding In An Elevator.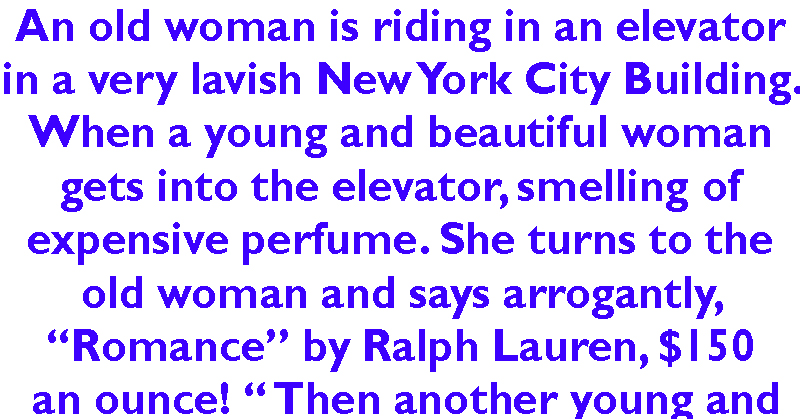 An old woman is riding in an elevator in a very lavish New York City Building. 
When a young and beautiful woman walks into the elevator, smelling of expensive perfume.
She turns to the old woman and says arrogantly: "Ralph Lauren's "Romance", $150 an ounce! "
Then another young and beautiful woman gets on the elevator and also looks very arrogantly turns to the old woman who says: "Chanel No. 5, $200 an ounce!"
About three floors later, the old woman has reached her destination and is about to get off the elevator.
Before leaving, she looks the two beautiful women in the eye, then bends over, farts, and says: "Broccoli. 49 cents a pound!"
LOL!!!
Hope this joke will make you smile! Have a nice day!
Comment your answer below 👇